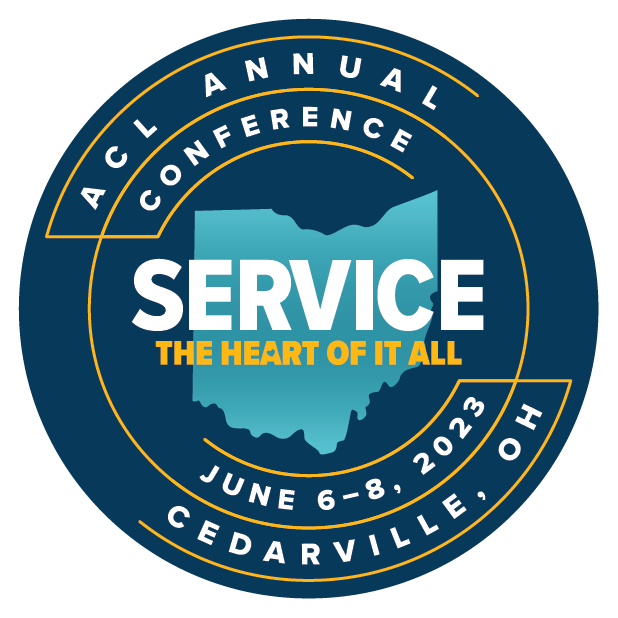 Would you like to be informed about the ACL Annual Conference exhibiting or sponsorship opportunities? If so, please sign up below.
ACL's 2023 Annual Conference will be in person June 6-8 at Cedarville University in Cedarville, Ohio AND a streamlined portion presented virtually June 26 and 27. Our program is focused on professional development and education, with librarian-focused presentations, virtual exhibits, networking opportunities, and much more! This year, sponsors can get in front of both of our audiences for maximum engagement and recognition.  
We are committed to providing our conference exhibitors and sponsors with a valuable experience and opportunity to connect with attendees. After a successful hybrid event in 2022 through our hosting platform, Whova, we've decided to continue virtual sponsorship booths and spotlights through Whova, so that ALL conference participants can engage with our sponsors and exhibitors no matter if they attend conference in Ohio or participate online. ACL Conference sponsors and exhibitors have the opportunity for MORE return on investment than ever before with Whova and this conference format! All in-person and online attendees will use Whova to navigate the program and engage during the conference. Additionally, the Silver Sponsorship level and above can participate in-person during our Vendor Showcase on Wednesday, June 7, (2-4 PM) if they choose to attend or send promotional information for an unstaffed booth. 
With the accessibility of online connectivity and lower registration fees for our virtual participation, there is the opportunity for even higher attendance than in-person-only events. (For 2022, we had nearly 150 librarians participate virtually + 100 in-person participants.)
All virtual conference content will be available to both groups attendees for six months post-conference, including sponsorship profiles.
Sponsors can engage with attendees throughout the conference, not just a few hours on one day.
ACL is grateful for the sponsors who enhance our annual conference through their presence and support. Available at four different levels, you will find a sponsorship opportunity to match your marketing and budget needs. Please note that exhibiting opportunities are included with each sponsorship level. View a chart comparison of the different sponsorship levels here: 2023 Sponsorship/Exhibitor Benefit Chart.
Why sponsor?
Sponsoring the 2023 ACL Annual Conference provides your company visibility and interaction with a diverse group of librarians who serve in universities, colleges, seminaries, public libraries, and schools across the globe. Attendees are looking to advance in their librarian profession, enhance their libraries, and engage with other professionals during conference.
Wondering if the ACL Conference is a good fit for your company? Below are the 2022 Conference vendors that participated as sponsors or virtual exhibitors.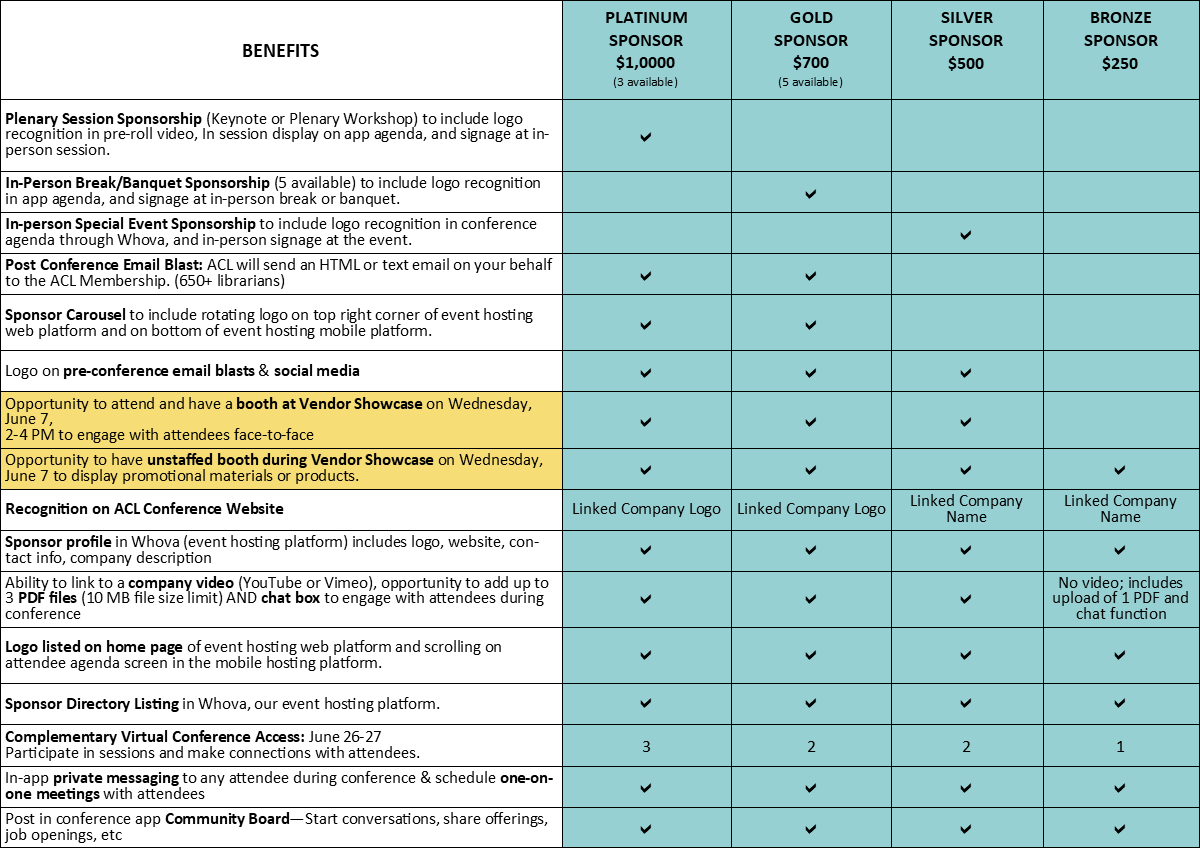 Sponsorship Level Details
Vendor registration closes Friday, May 5, 2023. There will be a $50 late fee added to all registrations after Thursday, April 27.
Please contact April McKinion, ACL Conference Manager, with any questions.