Do you find value in your ACL individual membership? Do you appreciate the helpful wisdom shared via the member listserv? Do you know others who would benefit from this community of Christian librarians? If so, please spread the word about ACL!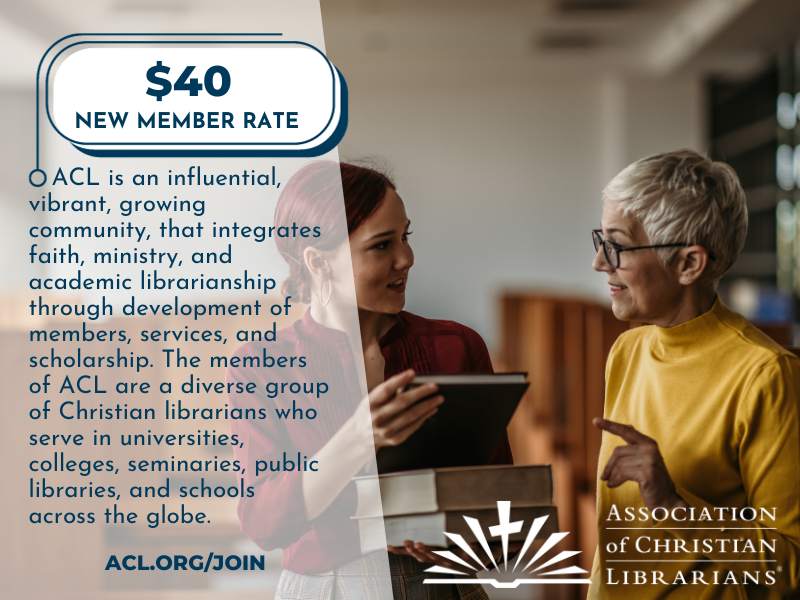 The ACL membership is at an all-time high and active members continue to be our best recruiters! We highly value our referring members, so to show our appreciation we are excited to send you a "Thanks for Spreading the Word" gift if a new member joins and lists YOU as their referring colleague.
Now is the perfect time for a new member to join ACL. New members who join after October 1 enjoy an extended membership year through the end of 2024 all for a low first-time rate of $40. So get out and invite your colleagues in your sphere of influence to join ACL!
Who could I tell about ACL?
library staff members not involved in ACL
colleagues in regional associations or consortiums
those pursing librarian degrees
colleagues on discussion lists
networks on social media
How?
Email librarians in your contact list a personal note on how ACL has benefited you and your career and share the acl.org/join page with them. The webpage summarizes who we are, membership benefits, membership types, and costs.
Advertise your connection with ACL by displaying a new ACL sticker on your water bottle or laptop. Email your mailing address to info@acl.org to request a sticker.
Share about ACL through social media. Right-click on the image to the right and choose the 'save image as' option to save to your computer. Then share the ACL ad picture and a brief comment about ACL on any of your favorite social media platforms. Please link back to acl.org/join. Or feel free to share our content on your story in Instagram, retweet our current ad from the ACL Twitter page, or share it on your newsfeed from the ACL Facebook page.