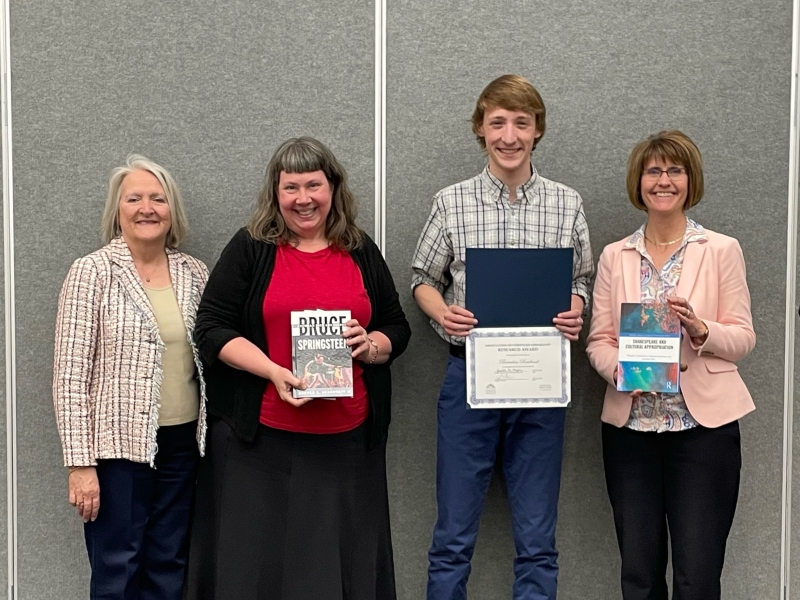 Cedarville University – Cedarville, OH – Brendan Rowland
Degree: B. A. in English
Nominated by Julie Deardorff, Director of Library Collection Services
Brendan has a history of positive and productive interactions with the librarians at Cedarville University and, while studying abroad, at the University of Oxford. For his senior capstone teaching session, he tackled a very difficult literary work, William Blake's The Marriage of Heaven and Hell, and made it accessible to the other students through a fascinating lecture and a nuanced discussion. Brendan was able to discover and synthesize the five main critical responses to William Blake. In addition, he has integrated multiple literary theories into his research on Margaret Atwood's Hag-Seed. He is an excellent student-scholar.
Brendan is the vice president of Cedarville's chapter of the International English Honor Society, Sigma Tau Delta. In this position, he has organized community-building and literacy events for English majors on campus. Brendan excelled in his semester of Oxford study. He has been accepted and plans to begin graduate work in Fall 2023 at the University of Glasgow. Most importantly, Brendan is a kind and caring young man who encourages others through difficult times.
Master's College and Seminary – Peterborough, Ontario – Juan Parra Jaramillo
Degree: Bachelor of Religious Education/Pastoral Ministry
Nominated by Ruth Sadlier, Director of Learning Resources
According to his nominating professors, Juan has demonstrated a willingness to research with appropriate scholarly sources, with an ability to explain concepts in an accessible manner. He has shown he can integrate Scripture and scholarly sources in a way that still brings out his own voice. Juan has been a positive voice inside and outside the classroom. His questions, comments, and invitations for wise advice showcased to faculty that he is not only teachable, but is a good leader, pastor, and teacher himself.
Juan has also been a student, a leader within the college community, and a pastor for his local church. Not many people could hold those various roles together. But Juan has sought to lead from a place of deep spirituality and character. And because of his character, people are willing to follow him.
Master's College and Seminary – Peterborough, Ontario – Shaina Govia
Degree: Bachelor of Theology/Cultural Engagement Studies
Nominated by Ruth Sadlier, Director of Learning Resources
Shania demonstrates a keen interest in finding resources for her research. She is a dedicated student who thinks through and questions ideas. She likes to grapple with issues and works diligently to thoroughly research her assignments. Shania has exhibited a strong reliable work ethic. She leads her peers with a supportive affirming attitude as she helps those around her who are struggling. Her enthusiasm for her studies also translates into her desire to share Christ with others. She gladly makes the most of the opportunities given to her.
Shania has worked in the library as a student staff member and goes out of her way to help her fellow students locate resources. She has also worked as a tutor sharing her writing and research skills. She spontaneously provides leadership for our student staff by mentoring new hires.
Moody Bible Institute – Chicago, IL – Abbigail Pauley
Degree: B.A. in Biblical Studies
Nominated by Samantha Lockenour, User Experience Librarian
Through Abbey's service to students at the Information Desk, she has provided research skills training to countless students navigating resources. Abbey created a website guide to help her peers better understand how to utilize Bible study tools. She has been an incredible asset to many students hoping to gain research skills in and out of the library.
Abbey has led her peers serving at the desk alongside her by demonstrating incredible initiative and encouragement of others. She demonstrates integrity in taking on tasks to serve the library and institute that go above and beyond her job duties. Abbey cultivates a community of curiosity around her. She encourages others to use library resources and to love learning.
Ohio Christian University – Circleville, OH – Kiley Savino
Degree: Middle Childhood Education
Nominated by Tina Craft, Library Director

Kiley realizes the importance of research and the importance of searching for articles from both sides of an argument. Her commitment to developing her craft as an educator is astounding and should serve as an example to those around her. Kiley has participated in several organizations throughout her time at OCU: Craft Crew, Tennis and helping out with events for Nerd Herd. She truly leads by example. She believes it is important, as a leader, to stick to what you say because this demonstrates good Christian character.
Kiley always does her best to bring a good attitude into the classroom regardless of what was going on at school or in her personal life. She does her best to make sure everyone feels welcomed and accepted. She also learned the value of showing appreciation to those who helped develop her into the teacher she will become, a trait that's extremely important in teacher education where teachers can be undervalued.
Southern California Seminary – El Cajon, CA – Brianna Anderson
Degree: B.A. in Biblical Studies
Nominated by Jennifer Ewing, Library Director

With this project, Brianna has proven not only to understand the flow and major key points of the Bible's storyline, but also to support her findings with the exceptional scholarly research. She has also demonstrated a mastery of Turabian formatting, and an academic writing style that is both crisp and clear, without sacrificing elegance. Brianna maintained a humble attitude that was matched only by her zeal for her excellence in her studies.
Despite several challenges, not least of which included illness and relocating with her husband for ministry to northern California, Brianna always made sure that her work reflected the quality befitting of this award, as she constantly strove to honor God in all her efforts. For the past several years, Brianna worked as the Financial Aid Counselor while attending classes. She currently serves as a ministry team assistant at New Life Community Church in Ukiah, CA along with her husband Brian who is the youth pastor there.
Trevecca Nazarene University – Nashville, Tennessee – Hannah Hallman
Degree: Masters of Science in Medicine
Nominated by Beth Purtee, Collection Services Librarian
Hannah has shown an exemplary commitment to servant leadership. She held significant leadership roles in the Dance Marathon fundraiser for Children's Miracle network at the University of Florida over several years, planning events, organizing volunteers, and fundraising. She was also a leader in a Christian college fellowship group, while also serving as a bible study leader for fellow students.
Hannah has also lived out her Christian faith with a strong dedication to acts of service, as shown in hundreds of hours of community service/volunteer work. She was a small group leader at her church and went on a mission trip with her church to Mexico leadership to build a home for those in need. She was a long-term weekly volunteer at St. Mary's Medical Center Children's hospital in West Palm Beach, Florida investing in children by spending time with them, planning events, and serving their families. Hannah has shared that it is her goal to incorporate faith and service into her career as a physician assistant.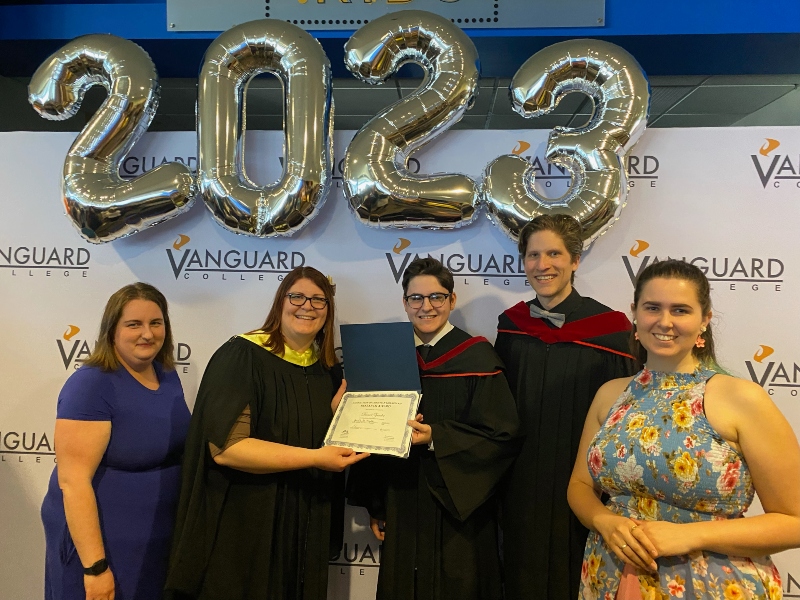 Vanguard College – Edmonton, Alberta – Daniel Zander
Degree: B. A. in Theology (Pastoral Ministry)
Nominated by Karina Dunn, Library Director

Daniel applies himself wholeheartedly to exploring topics from a variety of perspectives. A professor observed, "In a presentation on 1 John, Daniel Zander set the bar high for diving into the biblical text. He engaged the audience with powerful quotes from various Christian leaders, demonstrating that he sees the value of great theologians who have gone before." His program director notes Daniel's thoughtfulness in how he pays attention to and cares for others.
Daniel's faithful participation in the journal demonstrates a Christ-like willingness to serve. We greatly value the time Daniel contributed to the journal, knowing how busy a student's schedule gets. As service with our journal is entirely voluntary without compensation, Daniel's participation in our journal shows a selfless commitment to contribute to the local Church by enabling faith-based dialogue. Daniel has been a dedicated volunteer to help us launch the Vanguard Journal of Theology & Ministry (VJTM). His voice in our meetings helped shape VJTM into what it is today: an open access journal that publishes the perspectives of students, pastors, and theologians, integrating theological study with applied ministry experience for the benefit of all.