The Emily Russel Award was established to recognize outstanding contributions to Christian librarianship.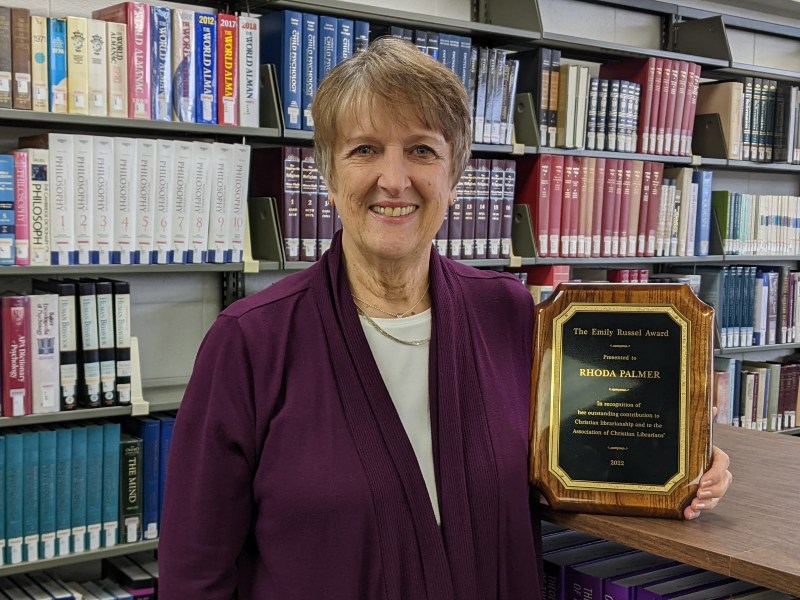 Many people travel through life giving only the minimum required from them. Rhoda Palmer is not one of these people. Her library director says, "Rhoda has not just done what was required of her job description, but embraced librarianship and library service as a way of life."
Rhoda has innovated many library practices over the past several years. Some of her notable contributions include her electronic management of resources, ensuring that students, staff, and faculty can discover and utilize resources in at least two different discovery platforms. She displays amazing customer service skills in every reference interaction in her cheerful and courteous manner. She brings a swift fulfillment experience to library patrons in her oversight of interlibrary loan functions. Her timeliness and efficiency is much appreciated by students and faculty alike. In addition, her knowledge of the special collections and archives in her university library is unparalleled. She also master-minded a redesign of the Morgan Library Learning website, focusing on the needs and expectations of students.
Professionally, she has made innovative contributions to the Private Academic Library Network of Indiana (PALNI), by making an expansive number of items discoverable to a global audience, serving as a WMS expert, and continuously looking for ways to maximize the discoverability of resources. She has been an ACL member for 15 years, attended nine conferences, and presented twice at the annual conference. She also served on the conference planning committee for the 2014 annual conference at Huntington University. Rhoda has also served as a faithful voluntary librarian at her local church, Pleasant View Bible Church in Warsaw, Indiana. 
Rhoda uses her service in libraries to "encourage and support her colleagues in their work, be a voice for information literacy across campus, and embody doing 'all for the Glory of God.' She ensures historical collections are available through her digitizing projects and influences the future by encouraging talented undergraduates to consider library school. Many graduate students continue to contact her with questions and guidance as a mentor."
Emily Russel Award
This award was established in memory of Miss Emily Russel in recognition of her vision and foresight as a cofounder of the Christian Librarians' Fellowship, now Association of Christian Librarians. For many years Miss Russel was the librarian at Faith Theological Seminary. Later, with the organization of Covenant Theological Seminary in St. Louis, she became its librarian, serving until 1968. She died April 20, 1971. The Emily Russel Award was established by the Fellowship at its 15th Annual Conference at Grace College and Theological Seminary. The recipient of the Emily Russel Award is approved by the Board of Directors.
Criteria:
Any combination of the following criteria may be used in selecting honorees:
Foreign service either to missionaries or in international libraries;
Special achievement in the librarian's own home community situation, church, or other special library;
Publication or contribution to library literature;
Innovative library initiatives;
Professional organizational activities.
Award Details:
A plaque in recognition of outstanding contributions to Christian librarianship;
A monetary gift as a token of appreciation for the contributions and services rendered to librarianship and/or the Association of Christian Librarians;
All benefits of full membership without the payment of dues for life, after retirement.
Past Emily Russel Award Recipients
2021 – Carol Reid
2020 – Alice Ruleman
2017 – Sharon Bull
2015 – Nancy J. Olson
2009 – Woodvall Moore
2001 – Ron Jordahl
2000 – Barbara K. Nelson
1999 – Stephen P. Brown
1997 – Eve Kiewitt
1997 – Lois Lehman
1993 – Louis Luesing
1988 – Nancy Dick
1986 – Ivy Olson
1984 – Alberta Chaffe
1981 – Ruth Butler
1979 – Dorothy Spidell
1978 – Ora Ann Sprague
1976 – Shirley Wood
1975 – Miriam Waggoner
1974 – Susan Schultz