"Be still, and know that I am God." (Psalm 46:10 NIV)
Many years ago, I was in the North Carolina mountains with other Youth for Christ volunteer staff. We had traveled from Bradenton, Florida, to spend several days helping out at the home where we stayed: weeding the garden, helping with the goats, and fellowshipping. On this trip, I was struggling with decisions that needed to be made in my life. What path should I choose?
One place we almost always visited on these trips was a beautiful waterfall that was not far away. The waterfall was tall and the water roared. I always loved seeing and hearing the power of the water as it crashed over the edge, but on this visit, I was seeking answers.
I wandered away from the others in the group and found a place to be immersed in the powerful sound of the water to think and pray for peace. As I sat there looking down over the falls, this Scripture came to my mind, "Be still, and know that I am God" (Psalm 46:10). Suddenly, I did feel peace. I might not know the path I was to take, but I knew I was in God's hands and I could trust Him to guide me.
Our lives are a journey that can run the gamut from hum-drum day-to-day experiences to celebrations and mourning. Sometimes life is scary and we need to be still and know that GOD is in control. God also provides people to journey with us.
Work, travel, illness, and other demands on our lives can keep us apart. As wonderful as technology can be to keep us connected when we cannot be together, many of us miss the closeness of face-to-face fellowship with people we know in our libraries, churches, and small groups. The pandemic emphasized this for me. I have learned that I still needed contact and fellowship with a few people even when I was not comfortable in a large group. I pray that the lessons we have learned about ourselves, our relationships with others, and our walk with God will continue to be a part of our lives.
God is our refuge and strength, an ever-present help in trouble. Therefore we will not fear, though the earth give way and the mountains fall into the heart of the sea, though its waters roar and foam and the mountains quake with their surging. (Psalm 46:1–3)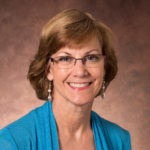 Alice Ruleman
Alice retired as Education Liaison Librarian from the University of Central Missouri in 2021. She has been an ACL member since 2000 and currently resides in Warrensburg, MO.