". . .To those who are called, beloved in God the Father and kept for Jesus Christ: . . ." (Jude 1 ESV)
Librarians are not strangers to uncertainty. For at least a generation, developments in technology have raised serious questions about how the future of the library, and the library of the future, will look. Further, sweeping industry changes leave most librarians facing serious concerns about the future of their departments, if not their institutions. Given that uncertainty has long been so pervasive, why do we still yearn for certainty?
On a gray April day in 2011, I walked to my car after a follow-up appointment with a top specialist at a leading research hospital. My medical prognosis was suddenly foreboding with no real certainty — except that I would likely see King Jesus early. Four months later, I began an even greater journey as PTSD from childhood trauma reached debilitating severity. At the same time, my seminary was facing cutbacks and closed half of the extension sites, which I oversaw as library director.
Two years later, I was given a clean bill of health while also serving as one of the last employees to turn off the lights when the remaining seminary teaching sites closed.
I cannot pretend that the violent throws of simultaneous challenges to physical health, mental health, and institutional survival were anything but disorienting. However, I found the book of Jude to be a constant companion, friend, and source of certainty during the bewildering moments of medical tests, waiting, therapy, and teach-outs.
Rather than identify his readers by locale, as the Apostle Paul frequently chose to do, Jude addresses his readers by reminding them of their identity in three short phrases: they "are called;" they are "beloved by God the Father;" and they are "kept for Christ Jesus" (Jude 1, esv). Called. Beloved. Kept. The last phrase in particular became my bedrock: I am "kept for Christ Jesus." These six words captured all that was certain in my very uncertain life. Nothing — not disease, or the physiological responses to decades-old trauma, or budget cuts or layoffs — could keep me from Jesus and the certainty that I was kept for Him.
We "are called." We are "beloved by God the Father." We are "kept for Christ Jesus." Allow yourself to sink into the certainty of God's actions performed on our behalf. As much as we can embrace the service profession of librarianship as our identity, God invites us to an even deeper reality where our identity as Christians does not depend upon our actions or our career. To find certainty in uncertain times, we do not need to work harder. We need to rest in the certainty of our identity and the certainty of our relational status with a God who does the work of calling, loving, and keeping us through every moment of our eternal existence.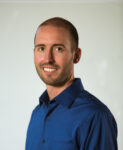 Jeremy Labosier
Jeremy is the Associate Dean of the Library at Biola University in La Mirada, California. He has been an ACL member for 5 years.