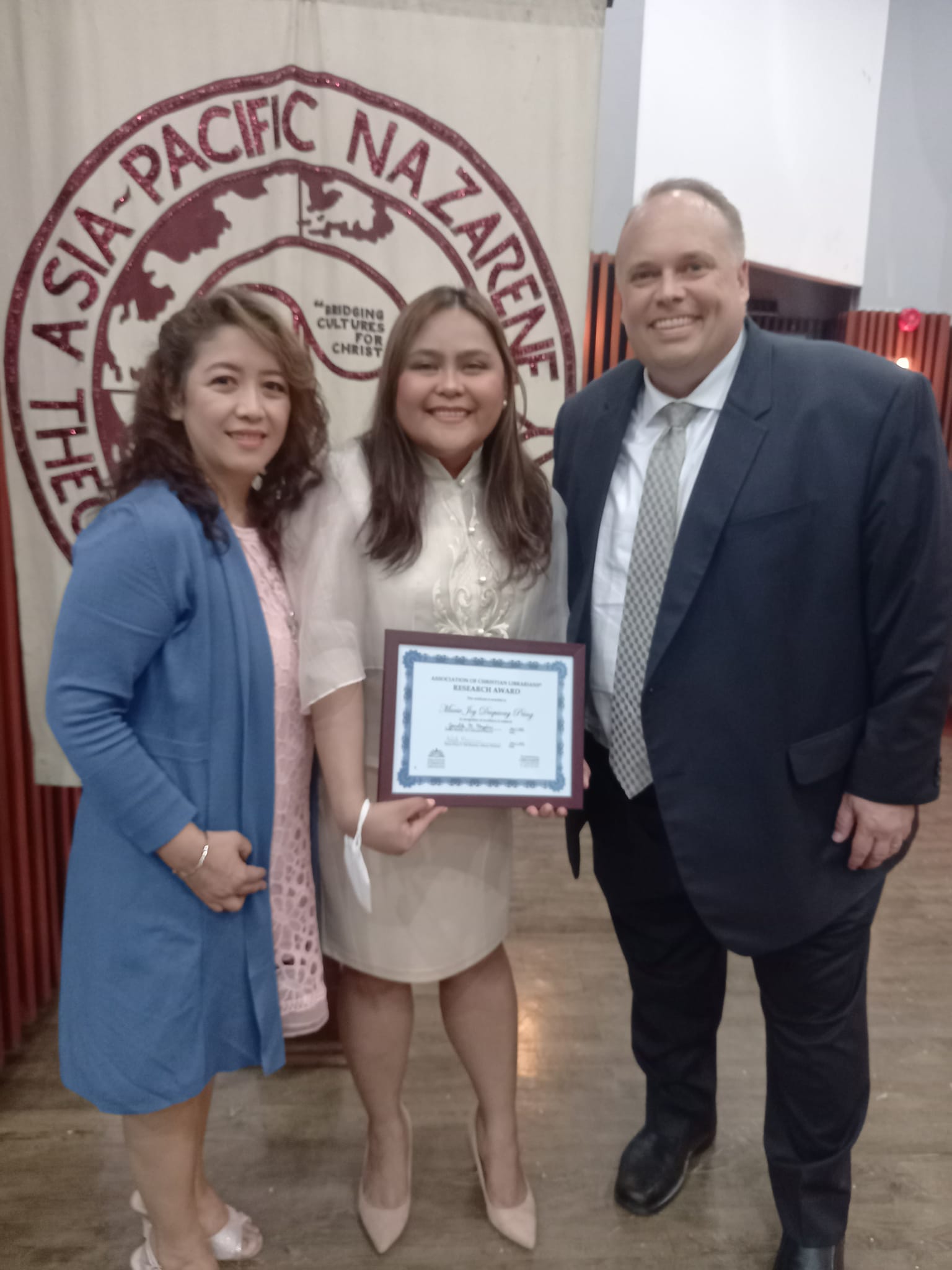 Asia-Pacific Nazarene Theological Seminary, Taytay, Philipines—Marie Joy Daquioag Pring
Degree: Ph.D. in Transformational Development
Nominated by Maria Nora Del Rosario, Library Director
Ms. Pring was the research director for Asia-Pacific Nazarene Theological Seminary from 2017 to 2020. In 2019, she led a study on the key factors for effective assessment for victim-survivors of online sexual exploitation of children. This project was in partnership with International Justice Mission Philippines and Nazarene Compassionate Ministry. In 2020, Ms. Pring served as one of the research consultants for ECPAT International's research "Disrupting Harm," a study in partnership with UNICEF and Interpol. She now serves at the Institute for Studies in Asian Church and Culture, doing more fieldwork and research on the interface of gospel, culture, and development.
Ms. Pring is one of the most exemplary students at APNTS, and shows academic integrity and excellence, as well as noble Christian characteristics. She is recognized as one of the Langham Partnership UK scholars in Asia, where she provides student leadership to her fellow scholars. In her local church, Ms. Pring serves as the pastor for discipleship ministries with a passion for leading others into a deeper knowledge of God's Word and encouraging others to bear practical fruit.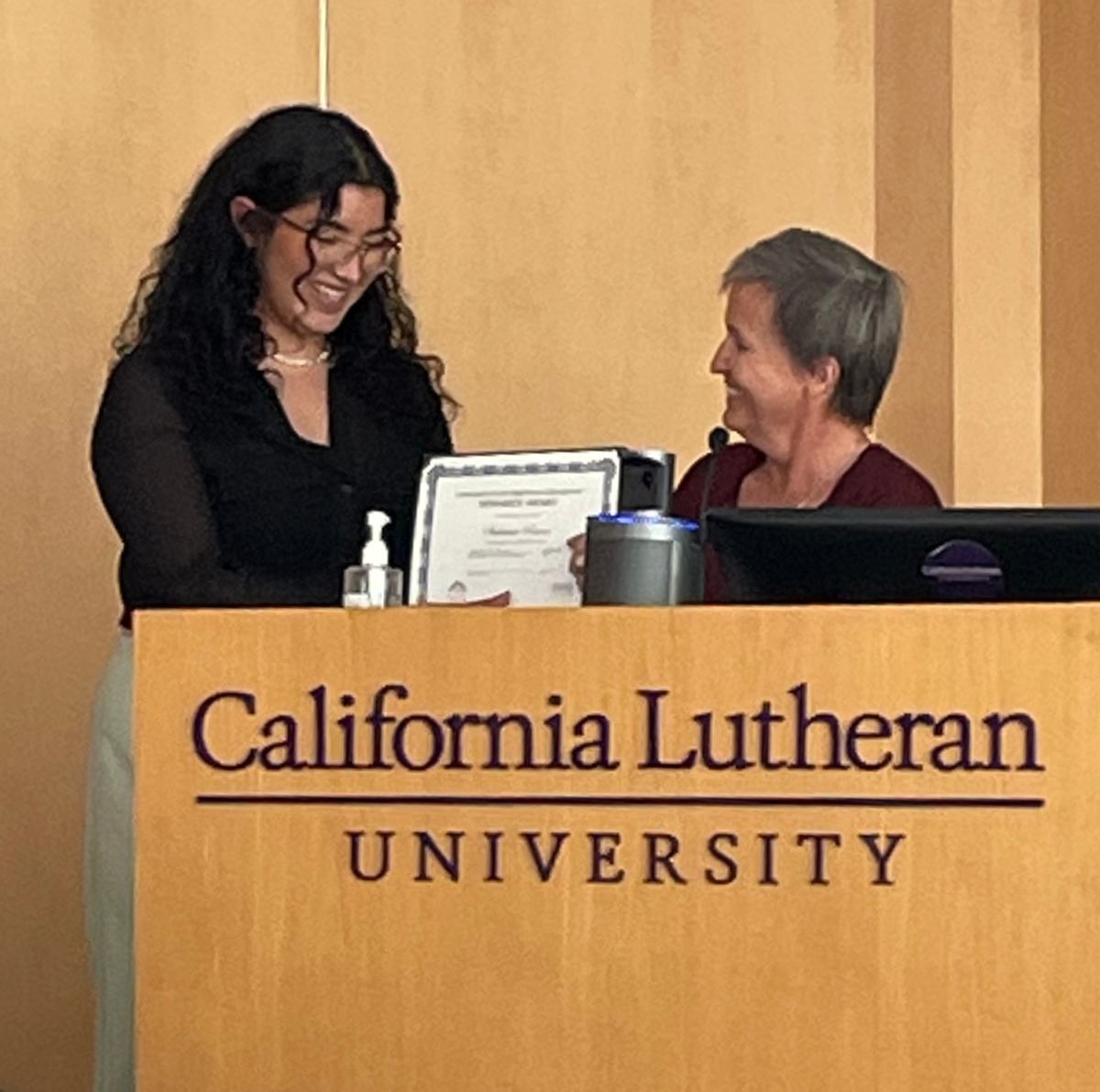 California Lutheran University, Thousand Oaks, CA—Stephanie Ramos
Degree: Theology & Christian Leadership; Multimedia
Nominated by Yvonne Wilber, Head of Undergraduate Instruction and Outreach
Stephanie is currently working on her capstone in Theology related to declining Latino youth church attendance. In order to pinpoint trends in young people leaving the church, Stephanie not only has researched the literature but is also doing primary research by interviewing youth. She rebranded her church's social media and web presence during an independent study with her art and multimedia instructor. She also helped produce a short film entitled, "Overcoming the Border," which presents the challenges and aspirations of two sisters from Guatemala seeking a better life in the United States. "My research, hopefully, will allow us to be better for our community and allow for us to grow and improve the way we lead the ministry," Stephanie says.
According to her professor, Dr. Julia Fogg, "Stephanie is a rising young scholar who is using interdisciplinary tools and methods to conduct her research on a Pentecostal church in the San Fernando Valley. She has been a strong contributor in the Religion and Theology capstone class as she problem solves with other students who are learning to direct their own research in conversation with one another. Stephanie's research has promise, and opens up a space of investigation into generational divides in Pentecostalism that is, as yet, under-explored, if not unexplored."
Grace Christian University, Grand Rapids, MI—Rosine Yayrato
Degree: Masters of Organizational Leadership
Nominated by Erinn Huebner, University Librarian
Rosine has grown tremendously in her ability to research. She has acquired, practiced, and effectively used various research methods to find excellent materials. She then masterfully infuses these resources into her writing assignments.
Rosine leads in her church and seeks out sound advice when she needs it. She has endured a tremendous amount of suffering but has overcome it, and maintains a gentle nature and humility that is commendable. She seeks the Lord in everything she does and is an excellent student and mother, all while running her own business.
God's Bible School and College, Cincinnati, OH—Joseph Tillis
Degree: Associate of Arts in General Business
Nominated by Stephanie Owens, Director of Library Services
One of Joey's instructors in writing and research confirms that Joey has done excellent writing and research in his coursework. His instructor was extremely positive in describing Joey's work.
Joey is consistently kind, respectful, thoughtful, and demonstrates a love for God and others. His character is well respected on campus.
Master's College & Seminary, Peterborough, Ontario, Canada—Stephanie Meadows
Degree: Bachelor of Religious Education
Nominated by Ruth Sadlier, Director of Learning Resources
Stephanie is a passionate follower of Christ who not only does research for good marks, but dives into important material that can make a significant impact on the Church's ministry. Her integration of academic work with life and ministry is to be commended, evidenced in her active participation in classes and in her assignments.
Stephanie shows leadership in speaking up on behalf of those who have often been neglected. Her passion for disability studies gives us hope that more leaders like her will arise to help the Church become more inclusive and accessible to a more diverse group of people.
North Central University, Minneapolis, MN—Christian Jackson
Degree: Bachelor of Arts, Pastoral Studies
Nominated by Judy Pruitt, Director of Library Services
According to his nominating professors, Christian is not only a frequent user of the library and library services, but he uses them to further the Christian faith and theological literacy. His detailed analysis of the Sabbath and Sabbath practices uncovered some of the roots of Sabbath neglect in anti-Semitism. His biblical theology of disability has brought much-needed attention to some traditional ideas about how one might understand divine healing within Pentecostal/charismatic traditions.
Christian is a model student on campus. As a Resident Advisor, many students look to him as an example. According to his professors, he comes to class well-read and prepared, and he goes the extra mile in all his work. One professor reported that "when Christian does the reading, other students are spurred on to do their reading more carefully." Our Biblical and Theological Studies faculty unanimously nominated Christian as "the embodiment of a core virtue of theological libraries–the fostering of a deep love for God in the cozy haven of books and databases."
Southern California Seminary, El Cajon, CA—Ben Cooper
Degree: Bachelor of Arts, Biblical Studies
Nominated by Jennifer Ewing, Library Director
Ben excels in his ability to locate important scholarly sources and discern between them in his research. His previous experience of working in a seminary library shines as each of his papers are consistently formatted according to strict Turabian standards. Ben has a knack for academic expression while maintaining focus on his stated thesis and method statements throughout his papers.
Ben has proved to be a quiet speaker but a deep thinker. He allows his writing to do the speaking for him, with eloquent academic prose. Ben is always willing to learn and displays a teachable attitude. When corrected, he is quick to make the necessary changes while maintaining a humble and joyful attitude. Ben and his wife are committed members of a strong Bible-centered church in the greater San Diego area.
Trevecca Nazarene University, Nashville, TN—Lindsey Magner
Degree: Masters of Marriage and Family Therapy/Counseling
Nominated by Beth Purtee, Collection Services Librarian
Lindsey consistently did well on her assignments in the Introduction to Psychological Research course last summer. She demonstrated excellent skills in locating, evaluating, and summarizing published research in the counseling field. She and her group designed a study that would be a great contribution to exploring the effects of adverse childhood experiences on the severity of eating disorders
Lindsey is well respected by her peers and professors. She served at the university counseling center all four semesters during her internship experience. She was devoted to her learning, client care, and personal growth as a counselor in training. Lindsey displayed leadership ability and character through her excellence in academic pursuits, dependability, and respect shown to her peers, professors, and clients. Lindsey often led by example in class by asking questions and sharing insights that clearly were gained through her extensive study and pursuit of higher learning. She has epitomized the ideal of the lifelong learner. Even during personal challenges, Lindsey demonstrated character traits such as openness, transparency, willingness to ask for help, and persistence in her goal to serve others through counseling.
Trevecca Nazarene University, Nashville, TN—Megan Richardson
Degree: Bachelor of Science, Psychology
Nominated by Beth Purtee, Collection Services Librarian
Megan has demonstrated tenacity and perseverance during a season where it would be easy to have not pursued discretionary excellence in research. Megan has shown academic excellence, specifically in the domain of undergraduate research. Her activity in conference presentations has been impressive. In January of 2022, she was a presenter at a Harvard Undergraduate Research Conference. In April 2022, she presented at both the Trevecca Nazarene University Undergraduate Research Symposium and the National Conference on Undergraduate Research.
Megan displays the Fruits of the Spirit when interacting with others and approaching her academics and was highly recommended by the faculty in her department. She was accepted into a master's program at Harvard University for the fall of 2022.